Morocco:Economy Minister Meets with European Commissioner for Economy
16 February 2020 / News / 328 / ABI 1
---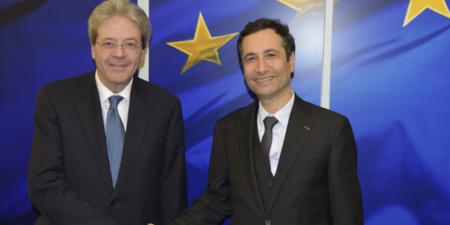 Brussels - Minister of Economy, Finance and Administrative Reform Mohamed Benchaaboun met, on Monday in Brussels, with European Commissioner for the Economy Paolo Gentiloni on strengthening the partnership between Morocco and the European Union (EU).
This is the first meeting of Benchaboun with Gentiloni since the latter's appointment as a member of the new European executive who took office on December 1.
The meeting touched on subjects of mutual interest under the competence of the European Commissioner for the Economy, who is in charge in particular of the economic and monetary policy, taxation and customs union, said Benchaaboun in a statement to MAP at the end of the talks, which took place in the presence of Moroccan ambassador to the EU Ahmed Rahhou.
The Minister, who was accompanied during these talks by a strong Moroccan delegation, cited in particular "subjects of importance for Morocco in its relations with the European Union", including matters related to rules of origin.
"There also is taxation about which important decisions will be taken by the EU in the coming days with regard to its relations with Morocco," said Benchaaboun.
He added that "we have obviously mentioned the partnership as a whole and the means of strengthening it for the benefit of both parties".
Several subjects were raised in this meeting, according to the minister who affirms having agreed with Gentiloni to further examine them in the coming days with a view to building and reinforcing a relationship of trust "so that our respective economies can benefit from it".
---
---