Morocco : JOE2, the second edition of Oriental Environmental days
Agenda / 181 / Africa-BI

12 February 2021 06h22 14 February 2021 19h00 | Online
---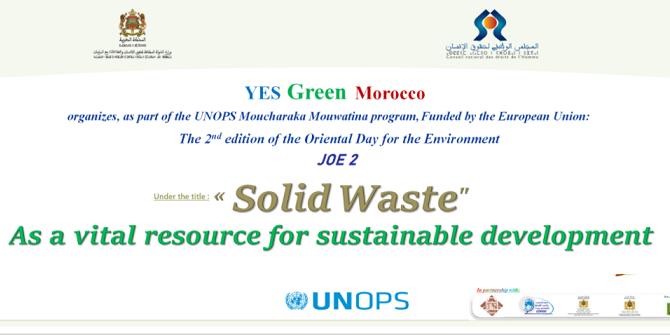 Morocco, as one of the countries that have ratified the Paris Agreement to reduce GHGs, including implementing an integrated strategy to minimize pollution and mitigate the effects of global warming, is fully committed to reducing or treating the majority of household waste in growing production in an environmentally sound manner that meets the most credible standards in this regard. However, current waste amount generation continues to create challenges for disposal. Moreover, the involvement of more advanced systems for sorting and recycling solid waste is still lagging behind and complicates the implementation of the strategy implemented by the State, which aims to recycle more than 20% of the waste produced all over the country. Hence the need for the involvement of the various parties supposed to contribute to the resolution of this dilemma, namely, the State Department, universities, industries, and also civil society.
Since the inauguration of its first edition in 2019, this scientific event has examined several aspects of environmental imbalance in the region of Eastern Morocco, under the gaze of academic institutions and experts, and researchers specialized in the ecological field. As a result, the organizers remain hopeful of ratifying ecological privileges and meeting the demands of healthy and sustainable economic growth, as well as rational exploitation of all the valuable resources available in the region.
The second edition of JOE, which will be held on February 12-14, 2021, focuses on the household solid waste sorting & recycling advantages, as a tool to develop such a circular economy on the one hand and ensure the safest sanitation of vulnerable natural ecosystems on the other.
Finally, it should be noted that a selection of the best papers presented in this edition will be considered for publication in an international indexed journal specializing in environmental sciences and resource management.
Link to the event website: https://sites.google.com/view/ygm-joe2/
Registration & participation link: https://cutt.ly/Hjr3C9g
---
---